It all started with an email from Klare back in November: have we ever eaten or made Kouign Amann? The resounding answer was no...on both accounts. Most of us had never heard of it, much less knew how to pronounce it (btw, it's QUEEN uh-MAHN). But once we did our Google searches and figured out what it was (buttery, flaky, doughy deliciousness), we were all on board.
At its heart, kouign amann is a laminated, yeasted pastry, much like a croissant. Where it differs is in its shape (either one big cake or individual muffin sizeand the addition of a sugar layer - the result is a muffin-like, French sticky bun. The treat originally comes from the Brittany region of France and translates to literally mean "butter" (amann) "cake" (kouign).
This was definitely one of our most challenging baking clubs - from start to finish, kouign amann takes at least 24 hours to make. Granted, most of that time is spent waiting - hands-on time is about 1 1/2 hours. So it takes some time, preparation and planning when making kouign amann. But I guarantee all that time and effort is worth it.
What was also fun about this baking club was comparing how different recipes were for the same baked good. While the overall mechanics were the same, we each had different amounts of the ingredients and different techniques. But all were delicious and worthy of being made again!
LIBBY - Kouign Amann (via The Kitchn)
What I liked about this recipe was how detailed the instructions were (3 pages of 21 steps!). It also gave great tips about ingredients, techniques and equipment. The only thing I would do differently would be to chill the dough after the second rise, before baking. As any chef would tell you, chilled butter is absolutely key to working with laminated doughs (that's the main reason why it takes so long to make - you have to wait for the butter to chill after each time working with the dough). I should have trusted my instincts - but decided to follow these instructions to the letter. The flavor and overall end result weren't terrible - but I think a good amount of the butter melted out early on and mixed with the sugar to make a sticky, caramel sauce on the bottom of each muffin well. Not pretty but still crazy delicious.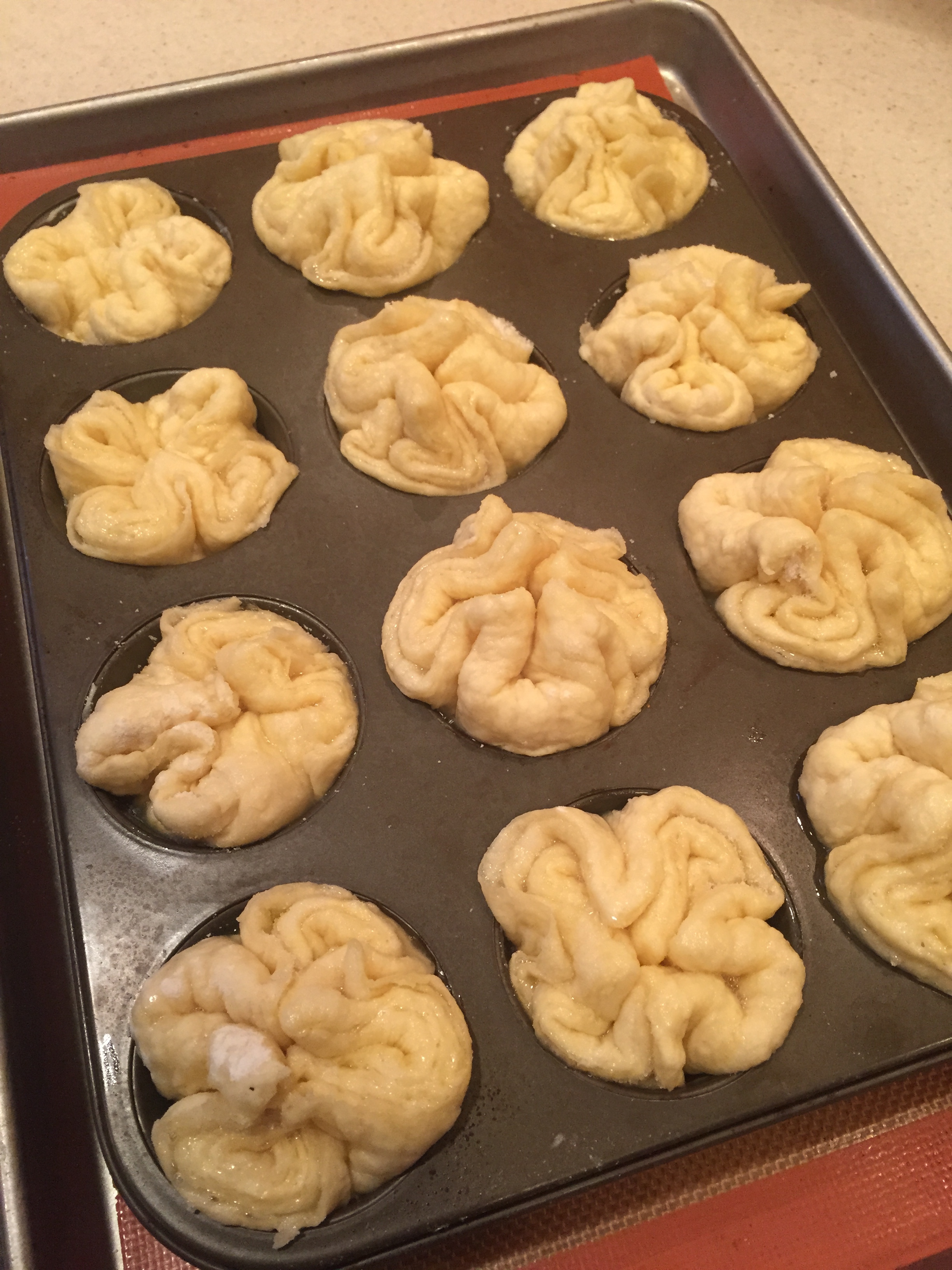 KLARE & TONYA - Kouign Amann (via Bon Appetit/Epicurious)
Both Klare and Tonya chose the same recipe - so it was fun to compare the same recipe from two different kitchens. In this recipe, the butter is incorporated via large pats of butter on top of the dough vs a butter block and the sugar is also added at this initial phase as well, before the first fold and turn. The sugar continues to be added at each turn by sprinkling the work surface with sugar and rolling the dough out on top of it - as well as adding sugar on top. Klare also chose to make hers as one large cake in addition to individual pastries. Consensus was...big or small...they all taste incredible.
GINA - Kouign Amann (via Cake Over Steak)
The recipe Gina used was probably the most different from the rest we tried. First, the butter was creamed with sugar. Then the dough (which also had sugar in it) was rolled out and then cut into two equal rectangles. The butter was spread on top of one of the portions of dough and topped with the other (so a dough-butter-dough sandwich). After all the requisite turns and folds, the dough was shaped by rolling it into a log and slicing it into 12 equal pieces. There was also not a second rise called for in this recipe, rather one last chill session after the shaping.